Exposure to Inundation and Coastal Change Hazards
Team 2 is focused on understanding and predicting risks to coastal communities due to flooding, erosion and ecosystem change, and evaluating natural and nature-based solutions.
---
Research Goals
We use integrated, probabilistic studies in climate, hydrodynamics, geomorphology, and ecosystems to quantify exposure to coastal hazards under present and future conditions. Our work focuses on 1) predictions of extreme total water levels, which are influenced by sea level rise, tides, rivers and storms, 2) geomorphic change associated with erosion and sedimentation in coastal systems, and 3) ecosystem change driven by the above processes.
We are also evaluating a range of community-determined adaptation strategies, including Natural and Nature-Based Features (NNBF). Our work will determine the effectiveness, tradeoffs, and feedbacks associated with these adaptation strategies and explore the efficacy of NNBF aimed at reducing exposure.
Project Locations
Our research is currently focused in three Cascadia CoPes Hub collaboratories: 1) Tokeland to Taholah, WA, 2) Newport to Astoria, OR, and 3) Salish Sea (Everett to Bellingham)
Projects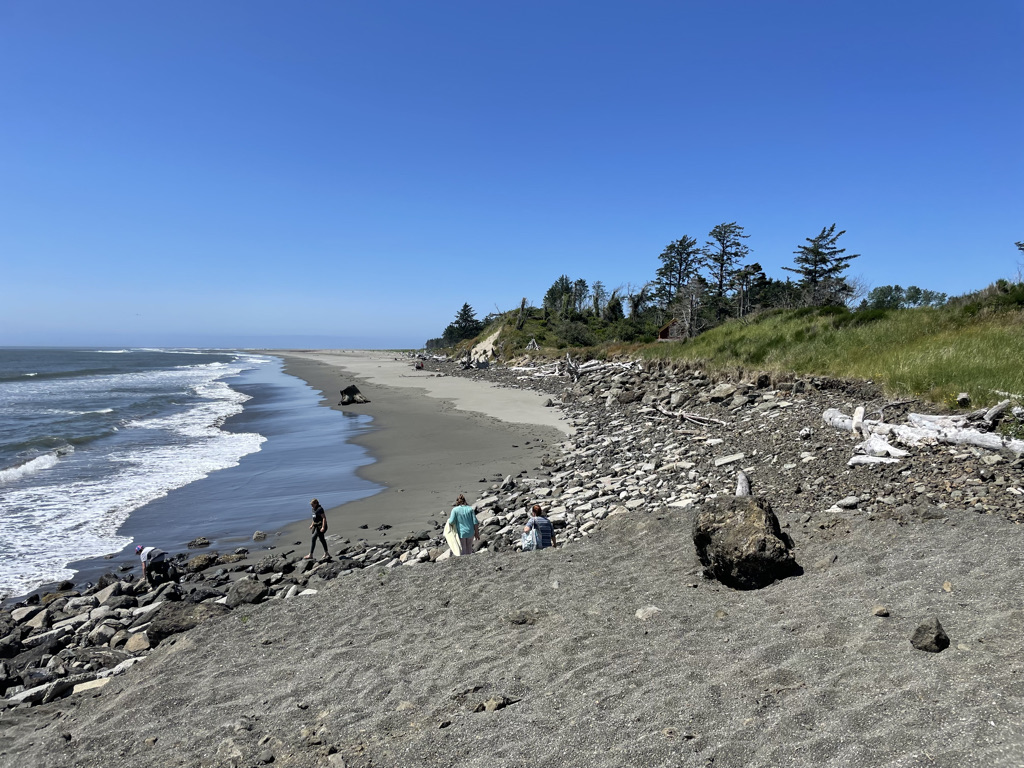 Team 2 consists of 18 faculty researchers, staff, and students who are in various subteams that are exploring the research goals.
Flooding and ecosystem impacts in Grays Harbor and Willapa Bay:
This project uses a hydrodynamic and morphodynamic numerical model of Grays Harbor and Willapa Bay to evaluate flood risks in these two coastal systems. We are focused specifically on the role of compound flooding, which occurs when flooding due to coastal winds and high river discharge or intense rainfall co-occur. 
Evaluation of the November 2021 Nooksack River flood:
We are working with Whatcom County to help understand the key drivers in the November 2021 event that flooded several nearby towns and caused an estimated $100M in damages. Specifically we are using a hydrodynamic and morphodynamic model, as well as gauge analysis techniques, to investigate the role of changes in channel conveyance before and during the flood event on inundation. 
Probabilistic Future TWLs (Total Water Levels) along the Cascadia Coast:
We are using the stochastic climate emulator, TESLA (Time varying Emulator for Short and Long-term Analysis of coastal flooding and erosion; Anderson et al., 2019), to simulate hourly probabilistic future TWLs for the entire Cascadia region under several climate change scenarios. From the TWL output we are computing a range of stakeholder defined impact metrics including: hours of collision, hours of overtopping, and hours of safe beach recreation. This work is allowing us to answer questions such as:
– Will some hazards (flooding, erosion, safety) evolve more rapidly than others and will this vary spatially?
– Which areas in Cascadia will face the greatest evolving exposure to chronic hazard proxies?