Community Adaptive Capacity
Team 3 is working towards increasing adaptive capacity of coastal communities to prepare, respond, and recover from chronic and acute hazards.
---
Overview
As coastal hazard modeling advances (Teams 1 and 2), it becomes more difficult to integrate the scientific information to prepare, recover, and adapt to hazardous events due to disparities in social, economic, and health vulnerabilities. Identifying and accounting for these disparities and their causes can make more comprehensive and accurate hazards science and risk assessments, increasing a communities resilience. Adaptation strategies are more likely to align with the unique needs, desires, and capacities of communities for mitigating hazards and building resilience when they attend to context-specific disaster experiences, histories, and environments.
Team 3 is assessing the impacts of integrating diverse community assets, networks, learning tools, flexibility, agency, and values into resilience-building activities. In each of the Hub collaboratories we will pursue 4 community adaptive capacity research goals as described below. Depth of engagement by goal and collaboratory will balance community priorities and provision of comparative insights to advance social science research.
Goals
Research Goal 1: Integrate multiple worldviews and knowledge systems into disaster risk assessment and management.
Research Goal 2: Identify approaches that fortify communities who will likely be isolated following disaster events, while strengthening community equity and livability.
Research Goal 3: Build capacity of local governance systems to create more equitable adaptation strategies and policies.
Research Goal 4: Developing support tools to evaluate local adaptation strategies and support the appropriate decisions.
Project Locations
Our research is currently focused in the following collaboratories: 1) Tokeland to Tahola, Washington, 2) Newport to Astoria, Oregon, 3) Everett to Bellingham, Washington, 4) Humboldt County, California
Projects
Team 3 consists of almost 40 faculty researchers, staff, and students who are in various subteams that are exploring the research goals.
Building capacity of local governance systems to implement equitable and just adaptation strategies and policies
Research Questions:
What differences exist in the capability and capacity of governance structures in coastal communities across Cascadia to support coastal community resilience and adaptive capacity and to address conflict when strategies or jurisdictions are in direct conflict?
What are planning and policy pathways to increase and sustain involvement for underrepresented groups in coastal governance?
How do coastal resilience, climate adaptation, and/or climate mitigation policies in California and Oregon characterize relationships with tribal governments? Based on recommendations from tribes, identify specific adjustments to these policies, and the legal frameworks underlying them, that would make coastal resilience strategies more accountable to protecting tribes's rights to self-determination.
(Dr. José Meléndez, Jennifer Marlow, and Dr. Laurie Richmond)
Integrating multiple epistemological frames and values systems into disaster risk assessment and management (Dr. Natasha Fox, Postdoc).
Project Goals:
Mainstreaming an 2SLGBTQ+ inclusive lens in local, state and federal hazard planning, adaptation.
Integrating hazard awareness and a culture of preparedness into 2SLGBTQ+ community events and engagement.
Producing targeted materials for and by community members using Cascadia CoPes Hub data.
Integrating blue-skies needs that respond to marginality in everyday life and are generative of social capital that can grow adaptive capacity in a hazard.
(Dr. Natasha Fox, Postdoc)
Identifying multi-use adaptation strategies for disaster risk reduction (DRR) – What benefits can be obtained from a localized, multi-functional approach to adaptation strategy development for DRR?
Research Questions:
What different forms of social capital valued by Latinx coastal residents exist and where?
How do different forms of social capital manifest themselves in the built environment?
In what ways can existing forms of social capital be utilized to increase adaptive capacity of Latinx coastal residents?
(Joshua Blockstein (Masters Student) & Dr. Jenna Tilt (PI))
The Hazards-Housing Nexus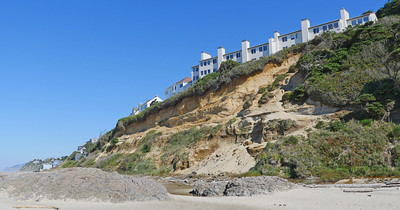 Research Questions:
What is the relationship between the hazards and housing planning spheres on the Oregon coast?
How do coastal housing production strategies consider hazard mitigation and adaptation plans, and how does this relationship affect institutional adaptive capacity to prepare for and "bounce forward" following a disaster?
(Trisha Patterson (Masters Student) & Dr. Jenna Tilt (PI))
Unique Risks of Growing Hazards: The Influence of Culture and Marginalization on Extreme Heat Risks in Washington State
Project goals:
Explore how cultural practices, worldviews, and perceptions of health influence how Black, Indigenous, and Latin/x communities experience and perceive health risks of extreme heat;
Identify how extreme heat response plans and risk communications strategies can effectively respond to the unique risks and risk perceptions of historically marginalized communities.
(Dr. Cassandra Jean (Postdoc and PI), Dr. Nicole Errett, Dr. Ann Bostrom, Dr. Dan Abramson, and Dr. Jamie Donatuto (Co-PI's). Co-sponsored by the Population Health Initiative Grant at the University of Washington.)
Learning About the Health, Well-being, and Environmental Justice Impacts of Coastal Planned Relocation in the US and Japan
Research Question:
What are the knowledge and information gaps related to the health, well-being, and environmental justice impacts of managed retreat that future research should explore?
(Isabel Nerenberg (Masters Student), Dr. Dan Abramson, Dr. Ann Bostrom, Dr. Nicole Errett, and Dr. Liz Maly (Tohoku University)
2022 Pilot Projects (12-month):
Several of team 3 members are leading or are a part of the Hub-sponsored pilot projects. Pilot projects are engaging communities and supporting emergent research activities to support information needs identified by tribes and other coastal communities. *All pilot projects can be found here.
Centering Place and Community to Address Climate Change and Social Justice: a partnership with Shoalwater Bay Indian Tribe to explore sustainable and culturally relevant strategies for an upland expansion in response to coastal hazards.

This community-based participatory action research, planning and design project explores sustainable and culturally relevant strategies for Shoalwater Bay Tribe's upland expansion in response to climate change-driven sea level rise and other threats to coastal ecosystems and community. The situation is urgent as the Tribe's reservation is located in the most rapidly eroding stretch of Pacific coastline in the US, on near-sea-level land vulnerable also to catastrophic tsunamis. The project advance's the Tribe's master plan and also establishes a new curricular element in the UW College of Built Environments for coastal adaptation planning, design and construction.
Research Questions:
Aim 1: Advance the Tribe's Upland Expansion Master Plan.
Q1. What innovative programming, design and land management strategies would most support community members' identification with the new site?
Q2. What phasing of development and Tribal capacity-building would be commensurate with the needs for both gradual incorporation of uphill activities into daily community life, and immediate reduction of risks from continued near-shore living?
Q3. What forms of land use, site layout, infrastructure, and architecture are culturally and ecologically appropriate to this community in present and future environments?
Aim 2: Collaboratively develop a model to envision and plan climate-adaptive, culture-affirming, and change-mitigating built environmental development strategies.
Q1. What types and combinations of historical and Indigenous knowledge and predictive scientific modeling of environmental change are most generative of effective climate- and other hazards-adaptive development strategies and their adoption by communities?
Q2. How can a fuller understanding of culturally-based place meanings, identities and attachments support a sense of continuity for the Tribal community and help them navigate place change to ease the transition and create new possibilities for regrounding?
Q3. How can collaborative design and participatory research methods with Indigenous communities generate novel and more widely applicable climate change-mitigating spaces, structures and building technologies? What aspects of this approach to collaboration may
be replicable and even scalable?
(Dr. Daniel Abramson (PI) and partners additionally funded with a UW EarthLab Innovation Grant and McKinley Futures Built Environment Studio support)
Consulting Labs
Evans School Student Consulting Lab (graduate student team project January-May 2023): Cascadia CoPes Hub – Federal Disaster Policy Analysis with Tribal Lens (Faculty advisor Dr. Ann Bostrom)
In support of a project on how different ways of knowing and indigenous worldviews influence disaster preparedness, students will review federal disaster policy to identify and characterize in a report any explicit provisions to support tribes, as well as implicit or explicit ones that detract from tribal hazard and disaster preparedness, response and recovery. The project will be carried out in consultation with tribal staff and coastal hazard Researchers affiliated with the Cascadia CoPes Hub.
---
Evans School Student Consulting Lab (graduate student team project January-May 2023): Cascadia CoPes Hub – City of Westport Climate Resilience Prioritization Toolkit (Faculty advisor Dr. Ann Bostrom)
The Team will develop an engagement strategy to contribute to the diversity and inclusiveness of the City's sea level rise (SLR) planning team, which is intended to be composed of representative stakeholders from diverse groups within the community. The Team will also support the City's planning team by developing contributions for a Hazards Code and Policy Guidance document that the City's planning team is tasked to put together. The purpose of the Hazards Code and Policy Guidance document is to inform updates to City code, policy, and future updates to the Westport Shoreline Master Program. To support this work, the Team will consider different sea level rise scenarios, and best available science and data collected through the City's continued partnership with the University of Washington and Climate Impact Group. Team contributions are intended to increase public understanding and awareness of sea level risk issues facing the community, to inform improved voluntary regulatory compliance and public buy-in for future planning efforts, and may take the form of specific communications and outreach products.